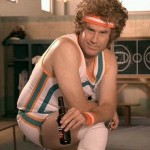 Unable to defend their title from last year, the Padres coaching staff was dethroned this morning by the starting pitchers for the annual Padres Spring Training Hoops Shooting Contest.
Complete with cheering teammates waving Tom Tornincasa face signs, a strategically blown locomotive train horn, Mark Kotsay with a bull horn, and a boom box playing selected theme songs for each shooter (ex: USC fight song for Dave Roberts), the contest is a great release for the players each spring to have some fun and break up the potential late spring monotony.
The finals this morning was a close contest with Joe Wieland, Tim Stauffer, Corey Luebke, and Dustin Moseley draining several 3 pointers to give the rotation pitchers a slim lead.  Buddy Black, Alonzo Powell, Tornincasa, and Dave Roberts did all they could in the final two rounds to get caught up, but with two shots left a 3-pointer bounced off the rim to seal seal the crown, and more importantly bragging rights, for the hurlers.
Despite their loss Buddy was proud of his squad, pointing out that they had to come a long way to get to the finals including "a major upset of the infielders", but ultimately the hot hands of the starters including tournament MVP Luebke was too much to overcome.
Congratulations to all of this year's contestants – already looking forward to next year's showdown in the desert !
Scan