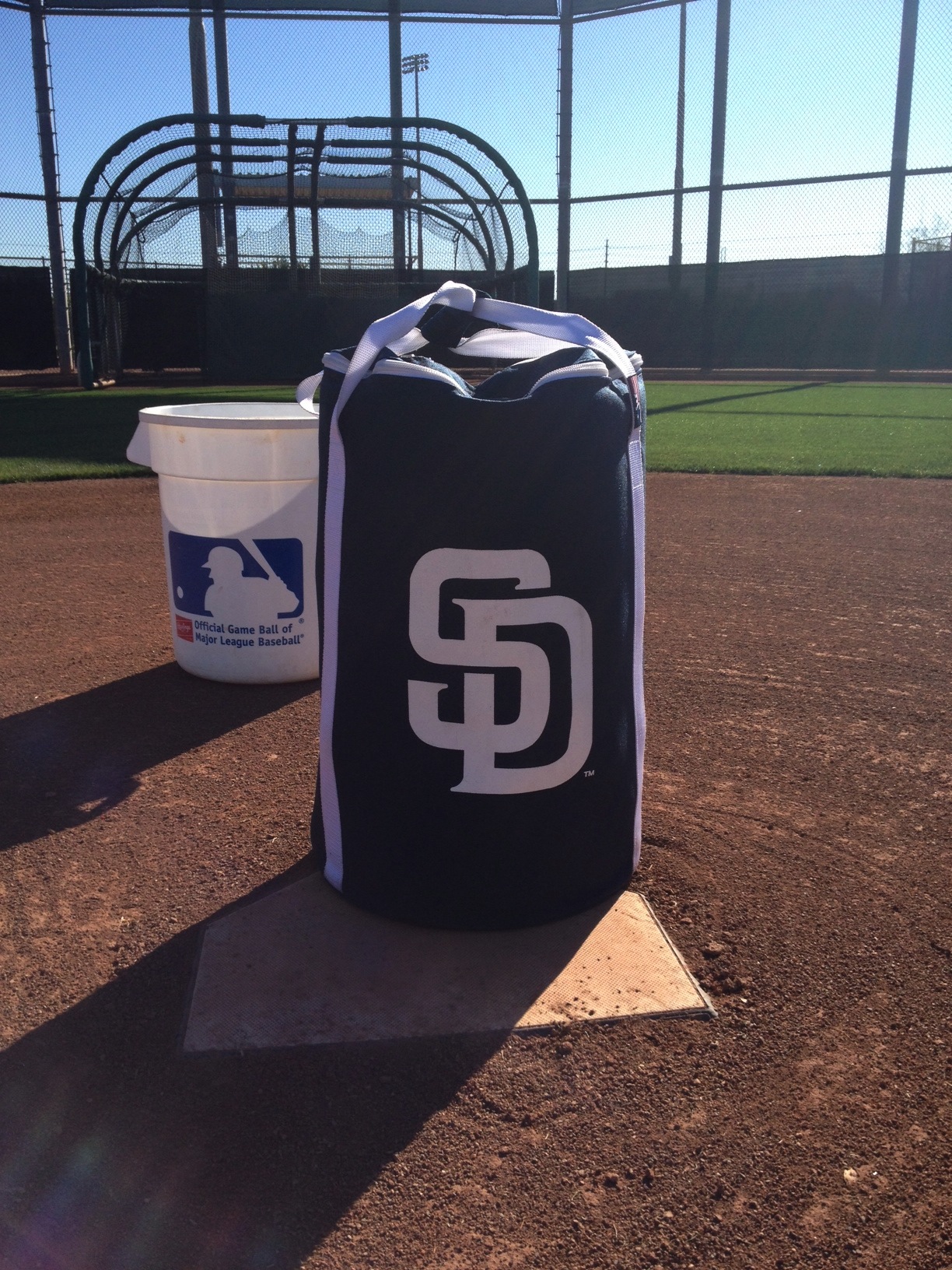 Another perfect day in the desert, and another perfect day of camp for the Padres pitchers and catchers…well…almost perfect except for one pitch which we'll discuss a little later.
Everything went smoothly during PFP's, and again there were meetings between pitchers and catchers similar to the ones I described in yesterday's report (Padres Spring Training Report – Feb. 16, 2014).  Today it was the turn of those pitchers who threw yesterday to share with the catchers and coaches about their repertoires, and how they like to use them.  As I explained yesterday, often times the rookies don't have a whole lot to say in this meeting, but that was certainly not the case today with possibly the Friars top nationally recognized pitching prospect.  Young right hander Matt Wisler appeared to be very insightful with his thorough run down of what he throws, how it moves, when he likes to use which pitches, to which locations, and in which situations.  He even appeared to be able to explain to his receivers what he does mechanically when he's missing with certain pitches so that they too can keep an eye out for it, and remind him in the heat of battle.  It looked to be a really impressive display of a young pitcher who has great stuff, and apparently understands who he is on the mound physically and mentally.  Everything about his kid says it won't be long before we see him in Petco.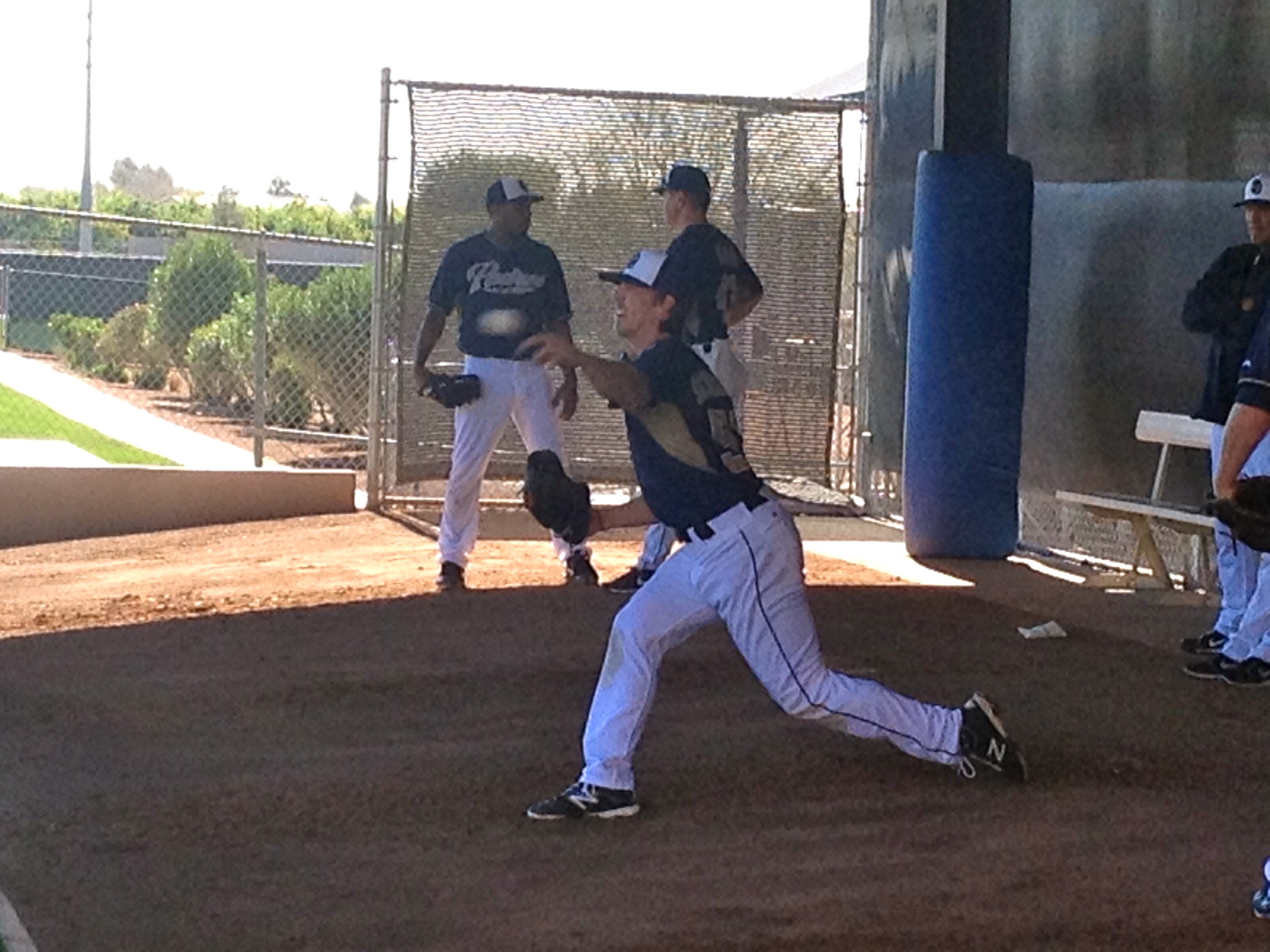 Another stand out for me today was Patrick Schuster.  The Rule V lefty, acquired in the trade for Anthony Bass, displayed great command of his fastball at the knees to both sides of the plate.  He was especially strong to his glove side which is crucial against right hand hitters, especially from his low 3/4 arm slot.  He also had good arm speed and late action on his change up.  I know it's early, and I know it's just bullpen sessions, but the deception and command he's shown so far makes you understand why he was the first player plucked in the Rule V draft.
Another arm that I got a closer look at today was righty Leonel Campos, who has put up some really lopsided numbers in essentially his only U.S. professional season.  Specifically the 1.61 ERA he posted in A and AA last year, and his 110 strikeouts in 69 innings pitched, and 14.3 K/9.  He misses a lot of bats, and showed strong FB command in the bullpen today, that apparently compliments a wipe out slider.
So, I mentioned that the day was almost perfect with the exception of one pitch.  Well, now you can see in this photo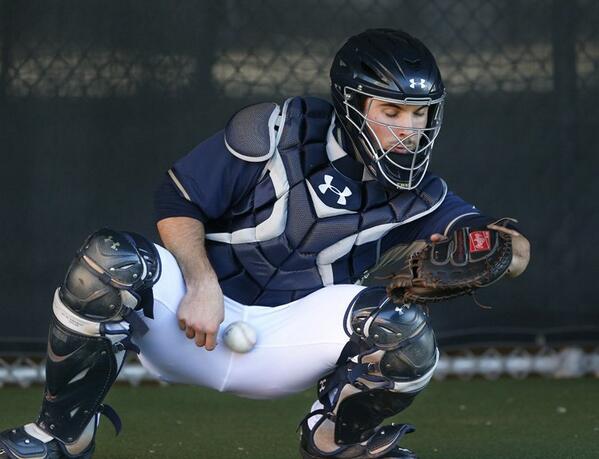 what I'm talking about.  This is top prospect Austin Hedges trying to catch a Kevin Quackenbush split finger.  Interestingly I had just spoken this morning with Kevin about his repertoire, and he suggested that his SF was a new pitch, and that he's not always sure yet what it's going to do.  He throws it hard, but it cuts, runs, even knuckles sometimes, and Hedges was on the wrong end of one of those.  For the top rated defensive catching prospect in all of baseball to not be able to glove it, and end up catching it with his cup, you know that pitch had some nasty movement! Austin toughed it out, and finished the throwing session, albeit probably singing at a little higher pitch.
Off the field the buzz today was about Chase Headley's meeting with the press this morning.  As I posted on my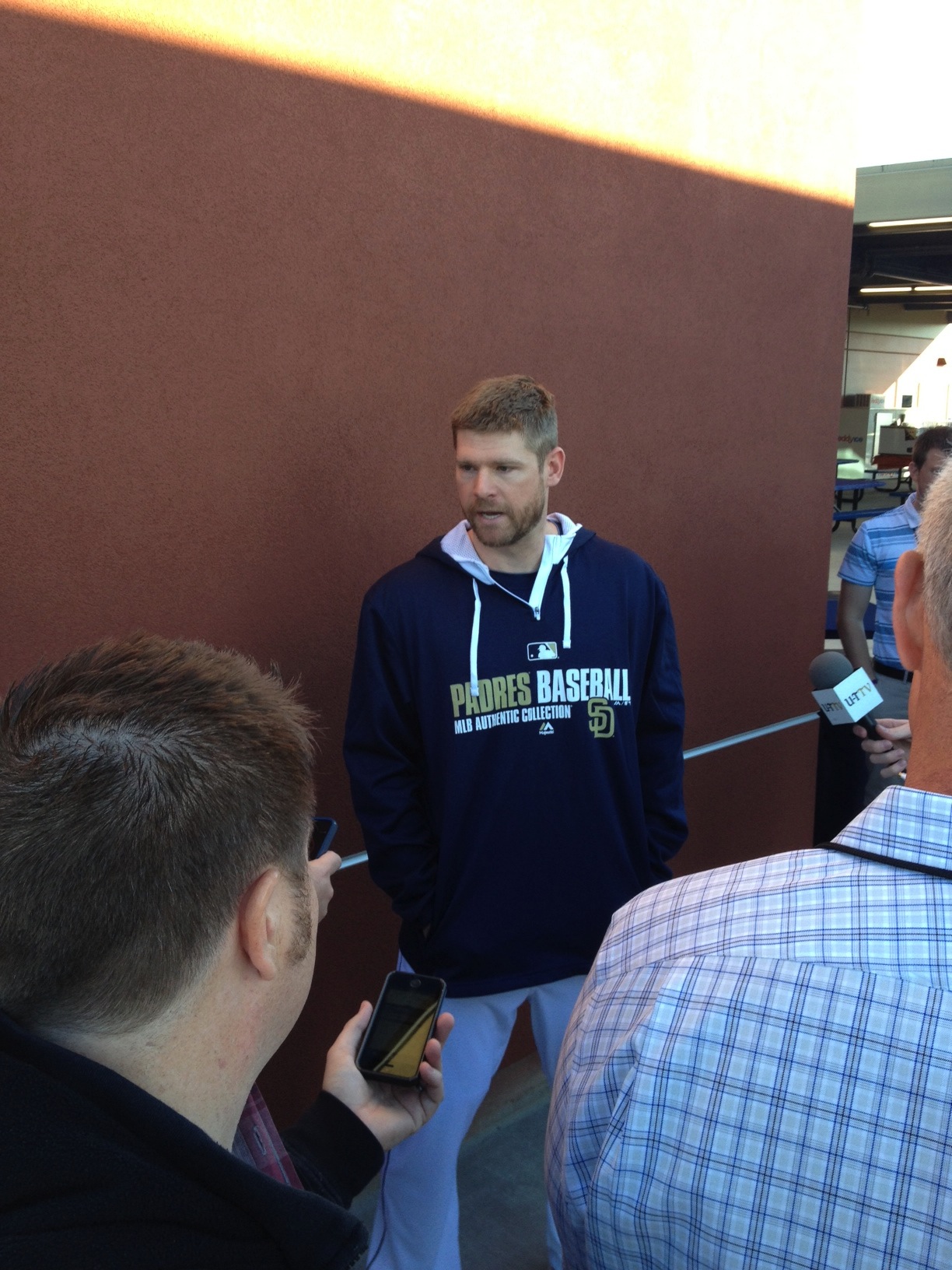 Facebook page earlier the essence of Chase's message was this:  He basically said that he wants to stay in S.D., but that both sides are obviously significantly enough apart that no deal is in immediate sight. He said both sides understand and respect the position of the other, so there is no animosity in any way at this point. He is still open to negotiating during spring training, but is not anticipating any significant changes in the stance of either side. He is not going to negotiate during the season because as he has stated before he does not want there to be any distraction from the focus of the team winning baseball games. He is glad he was not traded during the off season as again he likes playing for S.D., and feels this is as good a chance as he has had to win a championship here in S.D. with the team they have assembled. He added that whether or not he gets traded at the deadline that there is no doubt the team is entering this season with the intent of winning, and hopes that the team's performance dictates that the Pads keep him throughout the season because they're winning and making a playoff charge. It was all very honest, and straight forward as is Chase's style.  Hopefully some common ground can be found to keep Chase in a Padres uniform past 2014.
Most of the position players arrived today, and many took some swings both in the cages, and on the field.  Physicals will be given tomorrow, and the first full squad workout will be Wednesday.  Great to see all the guys greeting each other with hugs, and stories about their off seasons.  Just a good overall feeling, and good vibe in this beautiful new facility.  Soon it will be time to start getting after it on the field as a full team!
Everyone's still reportedly healthy, and all systems are go for another productive day in camp mañana.
Scan