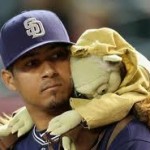 The Padres traded their most tenured player in the organization, right handed reliever Ernesto Frieri, to the Angels yesterday afternoon in return for two minor league players.
 Coming to the Padres organization are infielder Alexi Amarista, and right -handed pitcher Donn Roach.
It's been no secret that the Angels have been looking for bullpen help. The Angels 'pen is the only one in MLB yet to record a victory, is tied for most losses in the A.L. with 6, has the third worst in ERA in the A.L. at 4.89, has the fewest strikeouts, and has second highest BAA.  Frieri should be a welcomed addition to Anaheim with his 1-0 record, and 2.31 ERA in 11 appearances so far this season.
As for the Padres, they've had needs of their own especially with middle infielders at the higher levels of the farm system.  Amarista, who was playing for AAA Slat Lake and will report to Tucson for the Pads,  provides another close to ready infield option to go with Everth Cabrera (who has reportedly been playing better of late in Tucson), and Logan Forsythe who is still recovering from foot surgery during spring.
Amarista is only 5'7″, 150 lbs., but has put up good offensive numbers each of his 6 minor league seasons in the Angels organization, and started the season with the big league club this year before being sent down 2 weeks into the season.  Over his minor league career he is a .313 hitter with a .376 OBP, and doesn't strike out much, fanning only 228 times over 2153 plate appearances.  He has some speed as well with 117 SB's.  He's played mostly 2B, but can also go to  3B and SS, and also has some time in the outfield.
The Padres also received the 22-year old right-hander Roach, who through 6 starts for A-team Inland Empire was 5-0, with a 2.16 ERA, and 9.67 K/BB ratio.  He usually works at 91-92, will touch 94, and keeps the ball down.  Out of college he was throwing a CB and SF, but not sure exact what he is featuring now.  He was originally projected by some to be a 4th or 5th starter.  He'll likely start off with the Pads in the California League with Lake Elsinore.
The padres traded from their strength, right-handed bullpen pitching, to add another option to their thinnest organizational position middle infield.  One thing Josh Byrnes has said he learned from his time as the Diamondbacks GM is that no matter how good your strength is, if you don't address your weakest link, it can undermine the rest of the team.
I'm definitely going to miss The Big Ern, who was 3-3 with a 2.33 in 105 appearances with the Pads over the past 4 seasons, and was one of the most likable fun spirits you'll ever have in a clubhouse.   Who knows how Amarista and Roach will turn out, but with the addition of the Angels' 12 and 16th rated prospects to their organization, the Padres conceivably added some depth that may help them in the very near term, and longer out as well.  As with most trades, only time will reveal it's true value to helping the Pads win games.
Scan