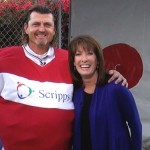 Hi everyone.  Please join us in dunking Susan Taylor and Trevor Hoffman on Feb. 4th, while raising money for the Heart Health Care program at Scripps Health!!!!!
With a minimum $10.00 donation done easily on line by simply clicking here you can help us reach our goal of $50,000 which allows Trevor to use his pinpoint Hall of Fame control to drop Susan wearing a big, red heart costume into the cold dunk-tank water. If we reach $100K then Trevor gets dunked by Susan!  I will be emceeing all the fun, as we raise money for a great cause.
Please click here to see all the details, or click on the video link below to see Susan and Trevor share all the information.  Thanks again for joining us by donating on line, and following me, Susan Taylor, and Scripps Health as we will be tweeting and posting the event in real time at high noon on Feb. 4th.. so you can watch all the action!"
Thank you for your support!!!!!
Scan