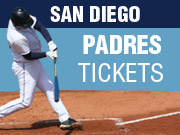 40 years ago today, April 8th, Hank Aaron hit his 715th HR.  But this day in history is just as memorable and notable for another African American in MLB history…do you know who, and why?
Answer to today's question will be revealed with our next challenge.
Our last question:  Alexi Amarista had the big pinch-hit, 3-run HR run on his birthday yesterday.  Who hit the last pinch-hit HR for the Padres? Answer:  Seth Smith hit a PH home run for the Padres on this season's opening day.
Congratulations, there were 21 correct answers, and they are now eligible for this month's drawing!
All the correct answers to today's trivia challenge that are submitted here before the answer is given in the next day's question will become eligible to win their choice of either 2 tickets to a Padres game, or some other Padres related item.  The more Trivia Challenges you answer correctly, the more chances you have to win! Random drawing for this month's winner will be held May 1st, and winner will be announced on this website.
Thanks for playing along, and good luck!
Scan