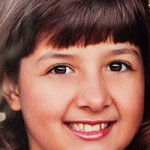 As shocking as the news was that a gunman in Arizona had opened fire on Rep. Gabrielle Giffords and her constituents, it turned even more heartbreaking for the baseball community to learn that one of the victims was the 9 year old daughter of Dodger scout John Green, and granddaughter of former manager Dallas Green.
Christina Taylor-Green, had recently been elected the president of her student council, and was invited to meet Giffords at the public meeting.  Christina was shot and killed along with 6 others during the shooting rampage by a deranged gunman at the grocery store where Giffords was speaking.
My deepest and most heartfelt sympathy and prayers goes out to the entire Green family for their unbelievably tragic loss, and to the families of all the victims of this sickening act of violence.  My prayers also go out to those victims who were wounded, including Rep. Giffords, for their recovery.
Scan