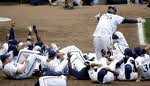 Where is Randy Johnson when you need him? It was payback time for the Brewers for the embarrassing home plate celebration they choreographed last year following a Prince Fielder homerun, and the best the Giants could call upon to exact revenge was Barry Zito's 82 MPH heater. It's the equivalent of bringing a Nerf gun to a firing squad execution. Just doesn't seem to have quite the same affect of instilling fear and remorse within the condemned for crimes committed when he knows the punishment will short, swift, and painless.
Granted, Fielder was paying the price for mostly someone else's crime committed on his behalf, but that's the how justice is administered within the MLB family. Always has been, and hopefully always will be. Why do I say, "Hopefully always will be"? Two reasons. First, it will mean that MLB has not yet completely emasculated the sport by trying to further eliminate a pitcher's ability to pitch inside, and the players' ability to police themselves. Having the courage to stand in a batter's box with the knowledge that the next blazing fastball could be right at you, either by accident or design, has long been one of the determinants as to whether a player had the mettle to be a major league hitter or not. Taking away the inside strike has already altered the game significantly, but that is a topic for another time. Second, and more important in this particular circumstance, the concepts of respect for the game and your opponent, and accountability for your actions, which can affect more than just yourself, are an important part of baseball's value system. It's a team game and one player's actions can have consequences on his teammates. Some players never learn this rule, and often find themselves out of the game because of their selfish and myopic attitude.
Fielder took Zito's first pitch in the back like a man, brushed it off as though being annoyed by a gnat, and took his base with no further incident. Case closed…probably. It remains to be seen if the Giants feel satisfied with their understandable attempt to exact justice and save face during their first matchup with their offender since the crime, but so far everything has been handled according to the unwritten player's code of honor and etiquette.  The Giants hit Fielder the first opportunity they had, with a fastball aimed at the ribs – no head hunting, justice was measurably served.
Brewer manager, Ken Macha, apologized to Giants skipper Bruce Bochy. He knew what his players did was unacceptable. Hopefully, players throughout the league have received the message, that home plate celebrations designed by high school freshman should not be used on the sacred fields of MLB. Only time will tell, and since some messages are better sent via a laser guided missile rather than a pea shooter, who knows if the point was made boldly enough to prevent other players from calling their kid brothers looking for the latest home plate celebration jig.
If this case is indeed closed, then Fielder and his Brewers brethren should feel lucky to have escaped with just a slap on the back to their franchise slugger.
Scan