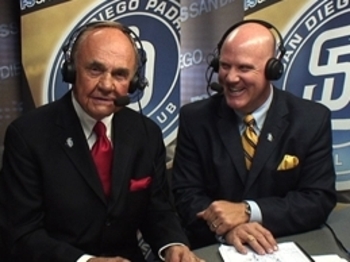 Scan, I hope you can answer this question cuz alot of us want to know, what happen to Mark Grant??????? We miss him he was awesome, did he get fired? I hope not but none of the Padre social media want to answer the question. Please can you answer this easy but important question. The Padre fans deserve to know. What happen to our beloved Mud Cat Mark Grant?!? – Andy
Andy,
Thanks for your question, and your heartfelt concern for one of San Diego's most beloved media characters.  I was going to make a joke of his absence, as I do almost every year that this questions is asked, but will refrain since it always sends people into a panic before realizing that I am simply having some fun.
Truth of the matter is Mark has simply been on his annual, mid-season planned vacation to spend some much needed time with is family.  Mark takes this break every season, yet people always seem to think that something drastic has happened to him.  In the past I have joked about his being suspended, incarcerated, traded, kidnapped, and one year he had given up his analyst job to join the Hare Krishnas.  None of that, of course, has ever been true.  He'll be back on your TV screen tomorrow.
Enjoy him…he's a good egg!
Scan