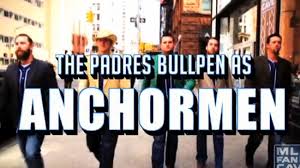 Hey Bob – I appreciate your contribution to Padres baseball, keep up the good work!
My baseball friend Pat and I feel that the Padres bullpen is one of their major weaknesses this year.  They may be the worst bullpen in memory. What is your take? Let us know. Thank you 🙂  – Randolph
Randolph,
Thanks for your note and kind words.  I agree that the bullpen has not been as strong as in the past, but I would not go so far as to say it has been a weakness.
3.33 ERA – Yes it is 6th in the N.L., and higher than what we are accustomed to out of traditionally dominant pads 'pen, but that's not an embarrassing ERA by any means.
10 Blown Saves – Tied for 2nd fewest in N.L.  More than respectable.
372 2/3 IP – 4th most in N.L.  There's the main challenge this year  as far as Im concerned.  Too many innings asked for out of this 'pen from the very beginning of the season.
3 pitchers in top 16 in appearances (Thatcher, Gregerson, Thayer).  Only one other team, LAD, has as many, and their bullpen ERA is 11th.  Too much has been asked of top guys throughout the season.  These guys have really been hanging tough.
In other words, no the 'pen has not been as lights out as in past years, but it has not been a disastrous 'pen IMO, especially in light of how much has been asked of them especially their top guys who have been worn out from beginning.  Given the work load they've absorbed already, I think they've done a heck of a job overall, and hope they can hang on.
Thanks for your email, and GO PADS!
Scan