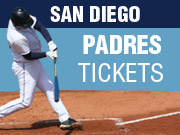 What uniform number has been worn by more different Padres players than any other number?
Answer to today's question will be revealed with our next challenge.
Our last question: The Padres, Brewers, and Red Sox pitching staffs are the only three staffs in baseball this year to share something in common thus far…what is it? Answer:  Until Sunday all three of those teams had used only 5 starters in their rotations…until I jinxed the Padres with this question!!!
Congratulations there were 13 correct answers, and those correct respondents will be eligible for this month's random drawing.
All the correct answers to today's trivia challenge that are submitted here before the answer is given in the next day's question will become eligible to win their choice of either 2 tickets to a Padres game. The more Trivia Challenges you answer correctly, the more chances you have to win! Random drawing for this month's winner will be held June 1st, and winner will be announced on this website.
Thanks for playing along, and good luck!
Scan