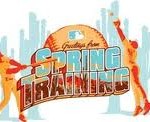 "I was looking at the standings today for both the cactus and grapefruit leagues and I noticed something, the Padres have played more games then any other team…
As of the standings last night (after all games were complete) the Padres had played 29 games (the average is 24.6 in the cactus league). Is that normal to have one team play more? I always thought they played the same number. Do we just play more games?" – Kayde
Fair question, Kayde, and one that many others have been asking me, so I will try to answer it here for as many as possible who may be wondering the same thing.  The standings that you see in most publications and websites will not include tie scores.  This is understandable since in regular season play there are no ties in baseball, but for spring training it is not uncommon for teams to have several tie contests where managers simply run out of pitching for that day.
The Padres have not played any ties, so their 18-12 record reflects all their games played.  However the Cubs for example are now 14-15-1, but on most standings they will show 14-15.  That may explain the apparent discrepancy, (that and the occasional rainout) but all the teams are essentially scheduled to play the same number of games.
Thanks for the question!
Scan