You were asked which of the first year eligible candidates on this year's HOF ballot would you vote in on their first try?
Here was your response:
Randy Johnson – 37% of total votes; appeared on 84% of ballots
Pedro Martinez – 26% of total votes; appeared on  58% of ballots
John Smoltz – 26% of total votes; appeared on 58% of ballots
Gary Sheffield – 7%
Nomar Garciaparra – 3%
Carlos Delgado – 0%
Others – 0%
None of the above – 1%
Thanks for the great participation!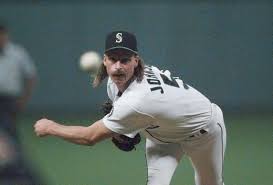 It surprised me that Johnson did not get a larger percentage of your votes.  He was one of the most dominating and intimidating pitchers of my era.  Can't tell you how many times I saw teammates remove themselves from the lineup with a "sore hamstring", or "tight back" the day he pitched.  He was a 5 time Cy Young winner, won 303 career wins, posted a .646 winning %, holds the MLB record for career K/9 at 10.6, etc. etc.  Curious, what more would he have had to accomplish to earn your vote?
Looking forward to seeing your vote on the new fan poll question asking which of the non-first time HOF candidates you would vote for this time around.
Thanks for voting!
Scan