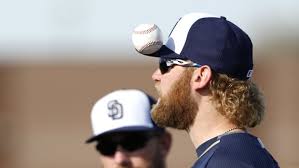 You were asked which Padres pitcher will record the most Wins this season?
Here was your response, and you did speak loud! :
Andrew Cashner – 78%
Josh Johnson – 10%
Tyson Ross – 5%
Ian Kennedy – 3%
Eric Stults – 3%
Patrick Schuster – 1%
This was the most lopsided Fan Poll response ye. Interesting too that last year's winningest Pads pitcher, Eric Stults, was at the bottom of the rankings.  Glad to see Patrick Schuster's girlfriend casting a vote here as well. Thanks for the great participation!
Looking forward to seeing your thoughts on the new fan poll question about which Padres pitcher you think will post the most W's this season.
Scan