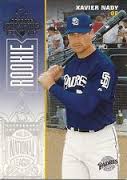 Hey Scan,  i have 2 questions number 1 question r u glad that the padres got Xavier Nady n Seth Smith? Number 2 question do u think it was a bad decision that they didn't keep Jesus Guzman n Luke Gregerson? – Dave
Dave, Thanks for the questions.  Here's my take:
Xavier Nady – The return of a former Padre who I felt never got the opportunity he was promised early in is career.  Part of it may have been his own undoing though, as his representatives demanded when he was drafted in 2000 that he receive an MLB contract, so from the beginning of his career his time clock was running putting pressure on the organization to move him along, possibly before he was fully ready.  He had marginal success in platoon type playing situations in 3 years with the Pads, never getting consistent at bats at one position over an extended period of time, but also never really grabbing a full time role with his bat as expected.  He hit his stride in 2007 & '08 with Pirates, but has struggled since, and spent all of 2013 in AAA.  His return at this point in his career is likely as an insurance policy for the organization as RH bench player in case Medica, Blanks, Forsythe or an outfielder struggle or get injured.
Seth Smith & Luke Gregerson:  I need to answer these together as they were involved in the same trade. I have always been a big Luke fan on and off the field.  Good guy, and really solid late inning reliever with his nasty slider. While there was understandably a lot of disappointment expressed by fans when Luke was traded for Seth Smith, now that the rest of the plan was reveled I think most would agree the team is stronger now for the moves.  The final piece of the plan being the free agent signing of reliever Joaquin Benoit, who can not only set up in 8th for Huston Street as Luke did, but can also be an adept closer if needed.  So for $6M, the Padres added needed left handed hitting to their bench in Smith, and added a reliever that should not only be able to do what Gregerson could in the 8th, but also be a legitimate substitute for Street not only for this year if he needs to miss time with a DL stint, but also for next year if Pads want to trade Huston, or don't want to exercise his $7M option for '15.  Some have expressed surprise that Pads could not get more for Gregerson, but in attempts to trade him both last year, and this year the market was surprisingly soft for him, possibly because of concerns out there, as noted an opposing scout to me, of his career Home-Away splits that suggest that pitching in Petco has helped him quite a bit.  So, in summary I think the team is stronger and deeper with these moves having been made.
Jesus Guzman: Jesus did a nice job coming off the bench for Buddy the past couple of years as a RH bat that could give a quality at bat against tough relievers…but his defense was poor no matter where you tried to hide him.  I think the writing was on the wall for Jesus when Tommy Medica arrived towards the end of the year and showed good at bats and good power from the right side.  Medica has his own defensive questions and limitations, but his power was intriguing.  Pads got SS Ryan Jackson in return for Guzman,  who could make team as back up INF, so with Medica, Kyle Blanks, Logan Forsythe, from the right side, and Smith mentioned above taking a bench spot from the left side, the Friars seem to have the bench covered with possibly more power and/or defensive depth than last year depending on how they choose to structure it.
All in all, I can honestly say that the team appears to have more depth and versatility heading into spring training than they had last year.
Scan