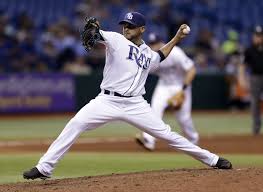 It is official, the Padres acquired LHP Alex Torres, and RHP Jesse Hahn from the Rays today in exchange for pitchers Brad Boxberger, Matt Andriese, and Matt Lollis, and infielders Logan Forsythe, and Maxx Tissenbaum. 
Torres, 26, went 4-2 with a 1.71 ERA in 39 relief appearances in his rookie year with Tampa Bay this past season.  He has a low 90's FB, and very good CH that he uses about 30% of the time.  While adding a left handed reliever was high on Josh Byrnes' list, Torres is not a LH specialist.  Yes LHB hit only .175  with a .241 OBP off him last year, and he had a 6/1 K/BB ratio, but RHB hit only .159 with a .246 OBP, so he is expected to be versatile in the bullpen.  He also was a starter in the minor leagues, so it's not out of the question that he could be asked to transition to the rotation at some point.
Hahn, pitched most of last season with Single-A Charlotte, going 2-1 with a 2.09 ERA , and .224 BAA in 20 starts .  He was projected to be a #1 pick out of Virginia tech in 2010, but elbow problems caused him to drop to the 6th round.  He since had Tommy John surgery but appears to be healthy again and throwing well with low 90's power sinker FB, with above average secondary pitches.  Yes, he is still a health risk, but there is enough upside to him as a future middle rotation guy that the risk was deemed worthy.
Forsythe, 27, hit .214, with six doubles, one triple, six home runs, 19 RBI, 22 runs scored and six stolen bases over 75 games for San Diego last season.  I was a big Logan fan, as he was a solid defender at all the infield positions, and excellent at times at 3rd, but had health issues that prevented him from consistently being in the lineup.
Boxberger, 25, made 18 relief appearances for San Diego in 2013, going 0-1 with a save, a 2.86 ERA (7 ER, 22.0 IP) and 24 strikeouts against 13 walks. He was acquired by the Padres along with infielder Yonder Alonso, catcher Yasmani Grandal and right-handed pitcher Edinson Volquez from the Cincinnati Reds in exchange for right-handed pitcher Mat Latos in 2011.  He was projected to be a bullpen set up man, and did that job effectively at times for the Pads in his multiple call ups.
 Tissenbaum, 22, hit .277 (115-for-415) with 28 doubles, two home runs, 49 RBI, 48 runs scored and four stolen bases in 111 games for Single-A Fort Wayne in 2013.
Andriese, 24, split this past season between Double-A San Antonio and Triple-A Tucson, going 11-7 with a 3.27 ERA, and 105 strikeouts against 29 walks over 27 games, 25 starts.
Lollis, 23, made 58 relief appearances last season between Single-A Lake Elsinore, Double-A San Antonio and Triple-A Tucson, compiling a 3-8 record with a 4.62 ERA (38 ER, 74.0 IP) and 63 strikeouts against 39 walks.
In short, there is no short term pain as the Pads gave up no players that were going to be factors for the 2014 season, nor likely any long term regret having not shipped out any high ceiling players that are projected to be impact guys down the road.  Of course, you never know what players will actually develop into, but the arms they got back appear to have higher potential than what was given back.  The Padres bullpen was certainly further fortified with this move.  They now have Street, Benoit, Torres, Thayer, and Vincent who all have experience getting important outs late in the game.  Nice to be able to shorten the game for Buddy, and give him a lefty option to turn to.
Scan