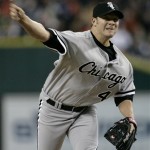 Ok, we're done Poppin' our P's, but the question remains is Jake Peavy's reported efforts to get White Sox GM, Kenny Williams, to trade for his former teammate, Adrian Gonzalez, in any way out of line? The short answer is "NO".  This happens all the time.  Players are always trying to improve their own ball club because THEY WANT TO WIN!  I would have been surprised if Jake had NOT talked to Williams about bringing over Adrian.  Gonzo is a good fit for the Sox for several reasons:
1. Chicago is in need of a power left handed bat.
2. Their incumbent first baseman, Paul Konerko, is due to be a free agent after the season.
3. Adrian is simply a great player heading into his prime, and can help any club he is a member of with both his bat, and his golden glove.
Front office's are constantly seeking the advice of their own players of what they know about other players in the league.  What kind of a guy is he in the clubhouse?  Is he a good teammate?  Is he a big game player?  Is he a gamer?  Is he physically healthy?  Has he ever expressed interest in coming here?  Is he committed to testing the free agent market, or would he consider signing an extension?  Would he be a good match for our club?  The kind of stuff that players share with each other during fishing trips over the off season, long plane flights, boring nights on the bench or in the bullpen, and dinners on the road can help a front office decide whether they want to make an investment in a guy.
Sure, there is a line of etiquette than can be crossed if a guy is in the middle of a long- term deal and another organization tries to sew seeds of discontent to create a desire in that player to leave the team he is currently committed to.  But given the fact that Adrian has already been openly shopped, there is nothing wrong with Jake trying to lobby for him to come to Chicago's South Side.
The real question is whether the Sox have the prospects that the Padres would demand in return for their budding superstar (Williams has declared he will not part with young infield phenom Gordon Beckham), and whether the Sox would be willing to give those players up for a player who they could still lose through free agency in two season.
Game on…stay tuned.
Scan