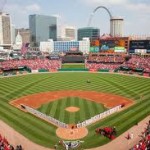 "Cant win 'em all if you don't win the first one!"  That's what we used to say as players when ever we were the victors in the season opener.  The Padres clubhouse was no doubt yelling that refrain after yesterday's hard fought, extra inning, 5-3 win over the Cardinals at New Busch Stadium.  It was a game that featured 3 Friar comebacks, hopefully making it a harbinger of another season of exciting, tough, never say die Padres baseball like we watched all last year.
In many ways, in my opinion, it exemplified how this 2011 Padres 25 will have to play in order to keep pace with what should be a stronger overall N.L. West division.  Tim Stauffer did a nice job in his first opening day assignment, allowing only 2 runs to cross over 6 innings of work.  He allowed 9 hits, and had base runners on in every frame, but was able to make the big pitch when he needed it to work out of jams, or keep the damage to a minimum.  What went on around him though featured some of the key ingredients to a winning Padres season (click here to see season preview article).
Solid up the middle defense :  Cameron Maybin set the tone with a nice in-coming diving catch to rob Ryan Theriot of a leadoff single to start the Cardinals first.  That was followed up the same inning by a Hudson to Barltett to Hawpe double play off the bat of Albert Pujols.  The Pads new middle infield team would turn 3 more twin killings during the game, including 2 against Pujols, one of which requiring Barltett to make an athletic back hand play followed by a perfect off balance throw hitting Hudson chest high to facilitate the easy relay to first.  There were several other nice plays by the Pads "D" during the game as well.   Poetry in motion, and one of the upgrades made by GM Jed Hoyer that should help the pitching staff all season long.
Production from the entire lineup: Specifically contributions from the bottom of the order (6,7,8), which yesterday included Headley, Maybin and Hundley.  Together they combined for 5 hits, 3 RBI, and 3 Runs, and were the body of the game winning rally in the 11th.
Aggressiveness on the base paths: The Pads had only one stolen base yesterday, and it came with the help of a sloppy Cardinals play by Skip Schumaker, but they made things happen elsewhere.  The Padres first run scored when Venable was able to read the play well and get himself to third on Bartlett's hard grounder to third base.  He would then score on Hudson's sacrifice fly.  Later in the 11th, the game winning run crossed when Headley reached third on Maybin's single, then alertly scurried home when the incoming throw form the outfield was lazily misplayed and caromed away from Theriot.  What made each of those plays successful was not raw speed, but anticipation and confidence in being able to exploit the opportunity presented by the defense, which only comes from purposeful practice.
The bullpen was solid, despite a home run allowed by Mike Adams on a pitch that I'm still not sure how Holiday hit out with one hand, with Bell slamming the door shut as usual.  Game over – Padres notching their first W, showing off some strengths that they will need to rely upon throughout the season.
"Can't win 'em all if you don't win the first one."  Stay hot, boys!
Scan