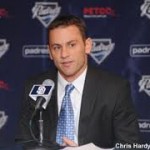 It's that time of year when every team needs to make the determination, "Are we buyers, or sellers with the trade deadline approaching?"  For some the answer is obvious, but for others the answer is not so clear.  Either way the possibility of trades, either to get that one piece that can put a team over the top, or to start the rebuilding process for the future, creates a firestorm of speculation, opinions, and rumors.
With that in mind, it's no surprise that every night recently I receive dozens of viewers' emails asking essentially the same thing: " Are the Padres going to make a move?  If so, will they get a bat, or an arm,?  Who will it be?"  All kinds of names are being thrown around, but there are a few things that need to be kept in mind.
1. It takes two to Tango: There seems to be a sense sometimes amongst fans that if the Padres want a player that all Jed Hoyer has to do is call up the other team, offer some players, and get his man.   Just because a player may appear to be a "perfect fit" for the Padres, the other team needs to be willing to move that player, and be interested in what the Padres have to offer.  If you don't hear about the Padres acquiring the player that appears perfect, it doesn't mean that the Pads didn't try – there simply may not be a deal available.
2. It often takes a deep talent pool, and an ability to take on payroll to make significant moves. The Padres are challenged with both.
3. No matter what you get, you could still use more. The question every team asks is "What piece will get us over the hump?"  Most often it isn't a one-piece solution to most teams playoff hopes, and even if that perceived need is acquired, the question usually doesn't go away.  Once you get that piece, and then lose one game, the question arises again.
4. Does the team need to make a move to GET to the playoffs, or to SUCCEED in the playoffs? Sounds redundant, but there is a difference and that can help determine how you spend your limited bullets.  If you need to get to the post season maybe your team needs a 4th and 5th starter, and a back up infielder to fill the gap for your aging shortstop down the stretch.  If you feel comfortable you can get to the post season then maybe you spend all you have on a middle of the lineup hitter with post-season experience, or veteran starter who will stay calm in playoffs.
5. Team chemistry has been a huge asset to this team, and disrupting it needs to be looked at carefully. I believe chemistry is often over rated, but I don't think there is any doubt that it has been a factor in this team's success.  Pads should be careful to bring in a player who will blend in with this clubhouse as well as contribute between the lines.
6. In general, I believe how a hitter that is traded for will respond to his new team is less predictable than an acquired pitcher's contribution. When hitters go from one lineup to another there are several factors that can affect his future performance, such as change of leagues and knowledge of pitchers, and change in how he is pitched to because of a change in his position in the batting order and the players hitting around him.  The success he experienced in one lineup can change when put into another.  Pitching on the other hand is more predictable because good stuff usually translates no matter what the league, or where in the rotation he is working.
So what do the Padres need? In my opinion they need a right handed bat, an arm, and a utility infielder who can preferably hit left-handed.  They need to get to the playoffs first, and should try to spread their limited resources over several players, not just one who could potentially make a post-season difference.
UTILITY INFLIELDER: This would be my first acquisition because it would be relatively inexpensive in talent and dollars, and would make an immediate, and fairly predictable impact. With Eckstien fighting calf problems, and Cabrera playing inconsistently, a lot of pressure has been put on Jerry Hairston, Jr.  He has done a nice job playing more than expected, but that in turn has weakened the bench and infield options for Bud Black, especially defensively when Salazar needs to play second.
The ideal player would have been Geoff Blum – veteran switch hitter to give good left handed at bats off the bench, and can play every position on the infield, but he is currently battling elbow problems.  Switch hitting Alberto Collaspo was interesting until the Angels grabbed him, but Mike Fontenot, and Ryan Theriot are possible options with the soon to be selling Cubs. Ty Wigginton is also still out there, as well as Willie Bloomquist, who could also fill that role at a reasonable price.
BAT: While the Padre offense has certainly not been explosive most of the year, in most cases it has provided just enough.   They rank 11th in runs scored, and 14th in batting average as of the date of this posting.  Everyone talks about getting a big bat to "Protect" Adrian Gonzalez.  In my opinion, it's not out there.  There are only a handful of players who would cause a pitcher to challenge Gonzo by hitting behind him, but Pujols and A-rod are just not available.
From a pitcher's perspective there is almost no one who is available via trade right now that would cause me to pitch to Adrian instead of the guy hitting behind him.  Yes it would be beneficial to have some one behind him who could drive in runs so that when Adrian is pitched around, there is till a chance for some damage to be done.  However, again speaking as a former pitcher, I can pitch around your #4 hitter just as easily as I ducked your #3 hitter if there is no danger behind him.
I think it might be more beneficial to acquire a top of the order guy who can set the table for Adrian, and benefit from Gonzo's protection of him.  Some candidates include Corey Hart, Jorge Cantu, Cody Ross, Jose Bautista, Miguel Tejada, Adam Dunn, and Jason Worth.  If the Pads wanted to make a splash they could try to get Werth but it would probably cost Heath Bell, and expose themselves to arbitration next year that they won't want to pay.  Bautista could be the right handed power hitter that the organization has been lacking since Petco opened, but his exposure to arbitration next year, and the Jays high asking price may be too much as well.
Whether they go after a bat to hit in front of Gonzo or behind him, the Pads are going to need players who are already in the lineup to step up and make stronger contributions, otherwise adding a single bat may be like spitting into the wind.
ARM: The pitching has been the Padres strength all season, but it is showing some cracks.  Correia has been inconsistent at best since his return from the bereavement list, and Clayton Richard has had a string of average to marginal outings. The fatigue of a long season where every pitch held the game's outcome in the balance may be taking its toll.  Combine that with the need to keep team Ace Matt Latos' innings under control, and an arm may be what the Pads need to get to the playoffs as well as do anything once there if Latos is limited in his availability.
The moves of Lee and Haren were really inconsequential to the Pads who were never seriously in the running for those top arms.  Nor will they, or should they, give up what Houston wants for Roy Oswalt.  Ben Sheets is hurt, and the Yankees or Mets will probably overpay for Ted Lilly.  Jake Westbrook, Jeremy Guthrie, Shaun Marcum, Brian Bannister, Edwin Jackson, and Brett Myers are names that Pads may look at for their affordability.  Cleveland would have to pick up a bit of Westbrook's contract.  Marcum may be costly as Toronto will want a lot in return for young arm, and Myers is a personality concern.  Pitching has been the strength and needs to remain so for this team to do anything down the stretch.  A little help for this staff that has carried the load may be essential.
SUMMARY: All said and done, I would look for the Pads to make several smaller moves rather than one big bang.  What will be interesting to watch in the these final days before the deadline is what moves if any do the Pads feel the need to consummate before the deadline, as opposed to waiting until after hoping to get a better deal but risking not having desired player reach them through the waiver wire.
This is a great opportunity for the Padres organization to show their fan base, their current players, and future players considering coming to the Padres that they are committed to bringing competitive playoff baseball to America's Finest City.  The resources may not be there right now to make explosive moves, but they can certainly strengthen their team which is already in first place of the division, improve their chances of reaching the post season, increase their chance of being a factor in post season play, and most importantly start a new trend of adding instead of subtracting or treading water at the trade deadline.
Good luck to Jed Hoyer.  I'm really looking forward to seeing what he can pull off in his first trade period at the helm.
Scan