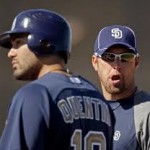 Today was undisputedly the worst day of spring training for batters, as it was the first day of live batting practice.
The mismatch between pitchers who have been in camp and throwing for a week, versus batters who in most cases have not faced a live pitcher since the end of September last year, is undeniable.  In fact, sometimes hitting coaches will tell their batters not to swing during the first day of live BP, and to just stand there and visually track the pitches into the catcher's mitt, since the act of swinging usually ends in futility and a good supply of fire wood with broken bats.
The Padres batters were given the green light to swing, and for the most part they did, and did it surprisingly well at times considering their handicap against the Padres' relief candidates.  The first two batters in the group I was watching, Jesus Guzman and Yonder Alonzo, hit line drive would be hits on the first pitches they each saw.  Kyle Blanks also hit what would have been an extra base hit, one hopping the fence in left during his first round.
Then the bats went silent.  Instead of the sound of "hickory hitting the horsehide", the only sound around the cage was the hiss of the ball heading towards the plate, and the pop of it hitting the mitt…oh, and in between those two sounds the occasional whoosh of a bat futilely trying to catch up to a ball already gone by.  The cause of this sudden change in the soundscape? Andrew Cashner and his explosive fastball.  The 6'6″ recent arrival from the Cubs in exchange for Anthony Rizzo was throwing heat, firing BB's, throwing aspirin tablets, bringing the noise, throwing some serious cheese, rushing it up there, throwing some dead red, blowing some serious gas, throwing petrol…I think you get the picture.  It was pretty overpowering and impressive.  Not only was the velo there, but he was working down in the zone and mixing in a very effective change up as well.  I do need to give Blanks some credit though, as he was able to fight off a fastball boring in on his hands into right field for what may have been a broken bat single – some of the best contact of the round vs. Cashner.
The other pitcher who I thought was particularly impressive today was Brad Boxberger.  With a cross firing delivery and 3/4 arm slot he showed a fast ball with good late life, even jumping when down in the zone.  He also featured an excellent change up that was quite a variance in speed off his FB, and had late downward action evoking several swings and misses.  All in all a solid effort in my book for the right hander fighting for a bullpen spot.
As for hitters who looked good under difficult conditions, I already mentioned Guzman, Alonzo, and Blanks making some good contact, and Nick Hundley and Chase Headley also are on that list.  My favorite character around the cage today, was Mark Kotsay.  Great chatter, commentary, and stories coming from the veteran outfielder to keep the boys having fun, and teaching in the process.  Some times guys who do this can get irritating or dig under peoples skin, but Kots so far seems to have a good feel for when to interject a joke, give some good spirited ribbing, or share an often times self deprecating story or observation that has a relevant message.  He also seems to have a strong respect for the concept of being a team, and guys looking out for each other.  I like what he can bring to this team's chemistry.  That outspoken personality combined with Carlos Quentin's quieter, all business attitude could be an effective blend of veteran leadership with a tough edge that this clubhouse could use.
Media photo day for the team was today.  It's general viewed as a pain the @$$ for most players.  30 or so newspapers, local and national television rights holders, trading card companies, magazines, and other licensees all wanting some face time.  Some stations are quick, others have multiple poses they want you to strike.  There's usually a table of balls, shirts, hats, and other souvenirs needing to be signed, as well.  The process is really not that big a deal, and if well organized the obstacle course can be completed in under 30 minutes.  Rookies usually get the early morning report time, with veterans getting the later times for that ever important extra hour of sleep, and time to make your coffee.
Starting rotation pitchers' turn to face some live hitters on Tuesday.  We'll see who has the bragging rights tomorrow, the hurlers or the hitters.
"Baseball is a red-blooded sport for red-blooded men. It's no pink tea, and mollycoddles had better stay out. It's a struggle for supremacy, a survival of the fittest." – Ty Cobb
Scan