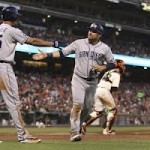 The Padres announced earlier today that they have agreed to a contract extension with infielder/outfielder Mark Kotsay through the 2013 season.
The 36 year old, 16 MLB season veteran, has hit .275 (28-for-102) with six doubles, one home run, and nine RBI for the Padres this year, including a .290 (9-for-31) mark as a pinch-hitter.
Beyond his performance on the field, his leadership presence in the clubhouse has been broad, positive, and impacting.  It's almost like having an extra coach, but sometimes a message gets through even clearer when it comes from a fellow player.
I've been around many veteran players during my playing and broadcasting career, few with the combination of performance and positive leadership skills as Kotsay has shown.  Said Padres GM Josh Byrnes, "Mark provides versatility and a who  very good late-game at-bat.  He brings invaluable leadership to our club and has become one of the key members of our team."
Congratulations to the Padres for bringing back a great influence on the field and in the clubhouse, and to Mark for finding a home for another year with the Padres.
Go Pads!
Scan