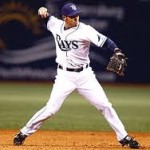 Finally, it is official – the Padres sent out the press release this afternoon that SS Jason Bartlett, along with a player to be named later, has been acquired from the Tampa Bay Rays for 4 players.
RHP Brandon Gomes and Adam Russell, LHP Cesar Ramos,and INF Cole Figueroa will go to the Rays.
Bartlett, 31, appeared in 135 games last season for the Rays, making 125 starts at shortstop. He hit .254 (119-for-468) with 27 doubles, three triples, four home runs, 47 RBI, 71 runs scored and 11 stolen bases.  The right-handed-hitting infielder set career highs in 2009 by hitting .320 (160-for-500) with 14 home runs, 66 RBI, 90 runs scored and 30 stolen bases, while being selected to his first career All-Star team.  The .320 batting average established a new club record for Tampa Bay, topping the previous mark of .315 set by Carl Crawford in 2007.
Interesting that this trade seems to have grown from 2 players to 4 players to the Rays.  PTBNL is reported to be a minor leaguer to be determined before the start of the season.
Padres now have the middle of their infield set, and to me it looks stronger both defensively and offensively than last year's. Obvioulsy the team will not replace the offense lost with the departure of Adrian at first base, but they will most certainly be more productive at every outfield position and the middle of the infield now as well. This could be shaping up to be a overall more formidable opening day lineup than last year's 90 win team opened up with.
What do you think, Padres fans, is Jed Hoyer constructing a better overall team on the field than they had for opening day last year?
Scan