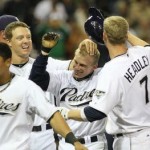 Does this past week look familiar Padre fans?  Late inning victories, come from behind wins, close battles with the Pads finding a way to come out on top, even after setbacks…very similar to what we saw at the end of 2009?
What strikes me after last night's exciting victory, thanks to David Eckstein's 3rd career walk-off homerun, is that this group of players has really shown an ability to not back down in the close contests.  They don't fold, or implode like many young, or even in some cases veteran clubs do, late in the game.  They don't make too many mistakes late, in fact they seem more likely to make the big play.   They don't try to do more, throw faster, swing harder, or otherwise play outside themselves.
I'm not saying they are perfect in the clutch.  Heath Bell uncharacteristically proved that last night with a horse-bleep, hanging curveball to Juan Uribe to blow the save, but they don't give up when something goes wrong.  One error doesn't snowball into two.  One run mistakes don't turn into two run deficits.   Set backs don't mean defeat to this team, it just means a little more work to deliver the final disheartening blow to their opponent.
How appropriate that David Eckstein would supply the fatal blow last night.  If anyone symbolizes that never say die attitude it's Eck, and this group of young players seems to have adopted his fighting predilection.
As with any young team, there will be ebbs and flows, moments of greatness and moments of frustration.  The good news for Padres fans is this:  baseball mechanics and skills can be taught to a team, but intestinal fortitude usually cannot.  As this young group continues to gain experience and fine tunes it's baseball skills, the thing that may separate them from the crowd down the road are those elements that cannot be taught, but that they've already displayed –  character and guts.
Scan