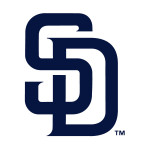 Sweet sweep! Feels good to type that "sweep" word again. First time Padres fans have been able to break out their brooms since May when the Friars ran the table against the Rockies in a three game set at home.  Today's finishing touch to send the Braves off winless was a tight 3-2 win.
Ross came out with his signature swing and miss slider from the first batter as he recorded four of the first seven outs by strikeout.  However, his nemesis the walk reared it's ugly head in the third when he issued back to back free passes with two outs.  That set the table for one of the few hitters who's consistently fared well against him this season in Markakis.  The left handed swinger again caused trouble, this time with a single through the right side to put the Bravos on top 1-0.
It remained that way for the first five innings. The offense had an opportunity to do some damage in the traditionally troublesome 1st inning for Teheran, but they let a bases loaded opportunity slip by, and he settled down after that.  The ice was finally broken in the 6th on a single swing by Solarte.  He got his arms extended on a mistake in the zone and sent it into the right field seats to tie the game 1-1.
At that point it became a battle of the bullpens, with the Braves 'pen sporting the second worst ERA in the N.L.  For the third game in a row the Pads took advantage of the underbelly of the Braves staff.  Upton, Jr. singled to start the 7th, and scored on a gap double by Hedges to put the Fathers on top.  Solarte chimed in yet again with a double of his own to add an insurance run.  Pads up 3-1.
Kelley pitched a scoreless 7th, but Benoit allowed a run to cross in the 8th to make it 3-2 leaving no wiggle room for Kimbrel in the 9th.  The Pads closer had struggled in his outing two nights previous against his former club, but battled to close it out.  Proving the wildness from that night to be an aberration The Kimbrel came out firing.  He struck out the first batter, but allowed the tying run to reach second base before he knocked the bat out of the hands of the next two hitters to finish it up for his 35th save of the season.
Nice tidy win with some solid pitching, timely hitting after he first, and more great defense worthy of a Coleman Star.
Day off tomorrow then back at it agains the Cardinals on Friday.  Cashner will start the opening tilt with the first pitch being fired at 7:10.  Uncle Teddy and I will look forward to having you with us for all the action on the Mighty 1090!
Scan