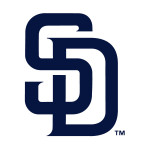 The Padres' struggles continued tonight as they lost to the Diamondbacks 4-2.
Shields just had one of those games where none of his various repertoire seemed to want to consistently go where he wanted them to.  One good curve ball, then one pulled way off the plate.  One good changeup with late drop, then one that faded too much. A well located fastball on the corner, then one out over.  Frustrating night for James as he fought through the 1st inning with only one run crossing, but was tagged for three in 3rd.  To his credit he stopped the bleeding there and lasted through the 6th keeping the Pads in the game and saving the bullpen from decimation. In fact his 5th and 6th innings were his strongest of the night.
As for the offense it was held in check for most of the night by De La Rosa.  The Friars were able to get runners on base in the 1st and 2nd but couldn't get anyone across.  Their big opportunity came in the 5th, and was started with two outs by shields who singled. De La Rosa struggled out of the stretch and allowed a single and walk to load the bases. Upton put together a tough at bat to work a walk and force in a run.  Kemp came up next and just couldn't keep the rally going and struck out leaving the bases juiced.
The next best chance to get back into the game came in the 8th.  Upton and Kemp each reached thanks to AZ errors. Venable walked to load the bases, and Spangenberg hit a sac-fly to get the Pads within two, but that was as close as they would get.
Tomorrow it will be Ross' turn to get the Pads going. First pitch is at 7:10, and look forward to having you join Ted Leitner and myself for the action.
Scan