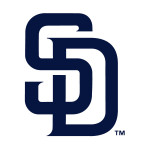 In Ross we trust!  Tyson took matters into his own hands tonight to fire the first complete game of the season for the Padres and lead the team to an 8-1 win over the D'Backs to even the series 1-1.
There was never a doubt tonight for Ross.  From the first inning to the last he was in command and dominating with his stuff.  He had a great feel for both his moving fastball and the slider, but it was the slider that was particularly heinous to the snakes' batters who couldn't do a thing with it all night.
The only batter in their lineup who hit it hard was Owings who for some reason saw just about the only three less than vicious sliders he threw all night.  He lined the first two of them for outs, both absolute rockets to Middelbrooks at third who snared them.  The third ended up in the gap in left-center field in the 7th. He would later score on a double by Castillo for the only AZ run of the night.
The offense provided some support early thanks to Kemp who doubled to lead off the 2nd, and scored on a Barmes single.  Norris then homered in the 3rd getting his strong arms extended on a fastball out over to crush it into the left field bleachers to give the Pdas a 2-0 lead. It stayed that way until the 6th when it was again the Kemp-Barmes connection, this time Kemp with the single and Barmes the double to drive him in.  Clint himself would eventually score on a wild pitch to make it 4-0 Friars.
As noted above AZ did get on the board in the 7th, but that was the only threat of the night, and Tyson still wasn't showing signs of fatigue.  He closed that inning out on a comebacker and mowed them down in order in the 8th.
The Pads took some of the pressure of Tyson to be able to complete the game when they scored four runs in the top of the 9th inning.  Barmes and Amarista doubled and tripled respectively. Ross himself then tripled on a blast just below the HR line in dead center field to drive in Amarista.  Melvin Upton, Jr. finished it up with a 2-run HR to give the Friars and Tyson a comfy 8-1 lead.
After allowing lead off single in the bottom of the 9th Ross struck out the next batter and then induced a 4-6-3 double play to cap off what was an excellent victory for the Friars in every way.
The rubber match tomorrow will be in the hands of Cashner with a 1:10 start time.  Uncle Teddy and I will bring you all the action on the Mighty 1090 tomorrow, and we'll look forward to having you with us.
Scan