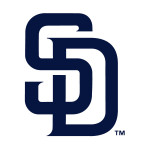 Well, isn't that just baseball? You have something done to your team that has never been done before in the history of MLB, and you go out the very next night and do that exact same thing back to your opponent! Such was the case tonight in the Padres 7-2 victory over the Mets.
The Metropolitans beat Cashner last night in a game where he had double digit strikeouts, yet allowed double digit hits and did not get past the 5th inning – that incongruous line score had never happened before.  Tonight the Pads returned to favor to the fireballing Syndergaard as they fanned 10 times against him but also tagged 10 hits and 7 runs on him before he was chased after the 4th…crazy!  What excellent back-to-back lessons on it's not how hard you throw it, but where you throw it.  Both Cash and Syndergaard were touching 97-98 MPH yet neither lasted 5.  Just another beauty of this game – you never know what you're going to see or what you're going to learn.
Kennedy started for the Friars and was in need of a good outing after very rough performances in three of his last four trips to the mound.  He delivered.  After a little bit of an ominous start with some mislocated pitches that allowed a 2-out, 2-strike single to plate a run in the first, he found his bearings and navigated the next five innings rather nicely.  His fastball command, and off speed action got better and better as his night went on.  He used a lot of changeups and for the most part they had good downward action.  Even his curve which was just casted up there last week had late bite and was effective. You could just see the stuff and confidence both get stronger as the night went on in his 6 inning effort.
It didn't hurt that he had a nice lead to work with early.  As noted above the boys took care of business against the rookie phenom and his 98 MPH heater.  Alonso wasted no time making his presence felt in his first game back of the DL when he sent the second pitch he saw safely into left field for a hit to start the 2nd. Middlebrooks followed suit with a single to left. Spangeneberg then laid a perfect sacrifice bunt down the third base line and beat it out for an infield single to load the bases.  Amarista then singled  on a hart hit grounder back at the pitcher which caromed off his glove and into right field to score Yonder and Will.  Venable then finished the work with a triple past the first base bag scoring Cory and Alexi to make it a 4-1 Padres lead.
Yonder again would be the catalyst in the 3rd with another single, and scored on Spangenberg's triple into the left field corner.  Spange was actually called out on the tag play at third, but he immediately signaled himself safe and refused to leave the bag knowing the umpires had missed the call.  He was right as the challenge was won, and the call reversed to make it a 5-1 spread.
The fourth saw more offense this time with the long ball off the bat of Drrick Norris to score Venable who had just singled.  The Friars were then comfortably on top 7-1 with Syndergaard out of the game and the  historically bizarre line score discussed above a heavy Albatross around his neck.  By the end of the night Alonso and Spangenberg would end up with three hits a piece, while Venable, Norris, and Amarista each had two.
Along with the fine hitting tonight were some solid defensive plays to help Ian as well. Kemp made a diving play to start the game, Middlebrooks made several nice plays to his left, Alonso snared a line drive, and Norris gunned down yet another attempted base runner.  It was aaaaall good for the Padres tonight.
The fellas will look to take the series tomorrow with Shields going to the bump for the Pads.  First pitch is at 6:10 and Uncle Teddy and I can't wait for you to join us for all the action on the Mighty 1090.
Scan