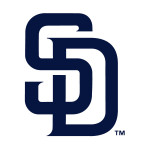 The Padres faced a buzzsaw tonight in Jacob deGrom and were shutout by the Mets 7-0.
The story is short.  deGrom showed why he was the Rookie of the Year last year with absolutely overpowering stuff.  His fastball registered 94-97 on the radar gun, but had far more late explosive life on it than I can remember seeing on anyone's fastball in a long time.  It was an impressive and dominant effort as he was perfect through the first five innings. Barmes broke it up with a single in the 6th, but the Pads could only muster one other hit off him through 8 innings.
The Mets offense did its job against Cashner who was also throwing hard popping 96-98 on the gun, but he did not get away with many mistakes in the zone.  It was a historic outing in its oddity. Never before had a pitcher in the history of MLB struck out 12 as Cash did, yet also allow double digit hits and not last to the 5th inning. He ended up leaving after 4 2/3 surrendering 6 runs, 5 earned on 11 hits.
So there it is. To quote my partner in the booth, Uncle Teddy, tonight's recap is short yet brief.
Kennedy will try to get both himself and the Pads back on track tomorrow with his first pitch scheduled to be tossed at 7:10.  Look forward to you joining Ted and me for the call on the mighty 1090.
Scan