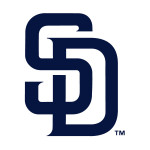 A five run 3rd inning for the Dodgers was the turning point of tonight's ball game as the Padres fell to their N.L. West foes 6-2.
The unraveling of the Pads and Casey Kelly started with a couple of missed location singles and a misplayed grounder that opened the floodgate.  On a slow roller to Spangenberg he tried to back flip it to Gyorko covering second but the ball sailed high and in the opposite direction Jedd was moving across the second base bag. Net result was the ball ended up in left field and no out recorded.  A couple of more hits and the game deciding damage was done.
In the 5th the Dodgers hit a couple of doubles to the right center gap that chased Kelly.  Mateo did a good job of stopping the damage but the Pads still found themselves down 6-0.
Gyorko singled in the 7th and Melvin Upton, Jr. hit his second double of the evening to get the Pads on the board.  Upton would later score as well on Cody Decker's sac fly (his first MLB RBI) to cut the deficit to 6-2.  The rally ended there, though, and the offense was silenced the rest of the way.
Other than Upton's two doubles and 3 2/3 innings of scoreless relief by Mateo, Jackson, and Quackenbush out of the bullpen there were few other silver linings to this one.  As an aside, if I asked you which Upton brother has the higher batting average right now I think most, including myself, would answer Justin.  In fact, Melvin is the family leader now hitting .259 for the season (Justin .251), the highest personal mark he's seen since 2008.  Have to give him, Mark Kotsay and Alonzo Powell credit for the changes he's made to get himself back in the right direction offensively after two awful years in Atlanta.
For game two it will be Erlin's chance to even the series.  He's coming off an excellent 7 inning shut out effort against AZ, and looks to keep finish the season on a good note and spoil the Dodgers quest to gain home field advantage in the playoffs.  First pitch will cross the plate at 6:10, and Jesse Agler and I will be bringing you all the action on the Mighty 1090.
Scan