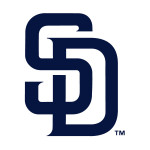 True, it's been a difficult season for the Padres, but at least the last home game of the season went as planned with a 3-1 victory over the Brewers.  That's the way to send the home crowd into the off season, and with jerseys off the players' backs to boot!
Kennedy started for the last time this season and was solid.  He used his fastball, changeup, curveball combinations effectively and rolled double plays in the first two frames to stay out of early trouble.  He did get some defensive help as well with Jankowski gunning down a runner at the plate to end the 3rd.  Later Travis would also earn a Coleman Star (the last of 2015) with a gutsy running catch while colliding with the retaining wall in foul territory down the right field line.  Ian was clipped for a home run in the 6th but that was it.  Six solid inning of 5-hit ball with 11 strikeouts to end the season on.
The offense didn't get him a ton of support but they did get him just enough early enough.  Solarte hit a two run homer in the 3rd to plate himself and Spangenberg who had walked.  The only other run came the next inning as Norris reached on a walk and later scored on Spangenberg's single to right.  Yet another good day for Cory who's had a really solid year and continues to bring his game up not necessarily in dramatic fashion but definitely with consistent steps.
Nice to see the back end of the bullpen function as planned with Kelly, Benoit and Kimbrel all accomplishing their assignments.  Scoreless frames for each, with Kimbrel's being 1-2-3 to slam the door.
The final series of the season starts tomorrow up in L.A. at Chavez Ravine, with Kelly going to the hill for his second start of the season. First pitch will cross the plate at 7:10, and Uncle Teddy and I will be delighted to have you join us for all the action on the Mighty 1090!
Scan