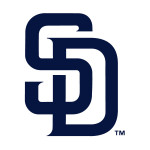 The long ball has been a curse for James Shields this season, and it came back to haunt him again today as the Padres dropped the rubber match of the series to the Diamondbacks 4-2.
Shields did not have consistent fastball command throughout yet battled with his other pitches to stay competitive and keep the team in the game through 6 1/3 innings.  He had runners on base in every frame but bobbed and weaved successfully until the 4th.  A fastball mistake out over was driven over the center field wall by Peralta to put the snakes up 1-0.
Arizona struck with the power game once again the next inning, this time by Inciarte, who had already singled in his previous two at bats, as he pulled a fastball down the middle into the right field seats to post a 2-0 D'Back lead.
The Pads finally answered in the 5th with two of their own with the rally being started by Shields himself with a double.  Janwoski drove him in with a triple that almost turned into an inside the parker.  He would end up scoring anyway on Spangenberg's single and the Pads had knotted it up 2-2.
Despite having to work out of the stretch making high intensity pitches most of the warm and sunny day Shields went out for the 7th. In his lsat outing he held the Rockies to 1 run over 6 innings but the 7th was asking too much and 3 runs were tagged on to his line score.  Similar scenario today as he battled to keep the game tied through 6, but the 7th was simply too much for him as he allowed a lead off single, followed by Inciarte's second homer of the day on a hanging hook to put AZ up 4-2.  That would essentially be all she wrote.
The Pads had a golden opportunity to tie it in the 7th with lead off walks issued to Solarte and Upton Jr. to start the frame. Jankowski successfully moved them over with a  bunt.  With the table set, though, Spangenberg and Kemp were both retired to leave the tying runs stranded.  Womp, womp…
The Pads went down in order in the 8th and 9th with Ziegler getting the save. Despite the loss the Pads still won the season match up 10-9.
One additional note for Shields. For the 9th consecutive season he reached the 200 innings pitched mark, which is currently the longest active streak amongst MLB pitchers.  Mark Buehrle is 9 innings away from eclipsing that mark for his 15th consecutive 200+ inning season but has only one start left.
The Brewers are coming to town on Tuesday and Tyson Ross will open the series for the Friars on the hill.  First pitch will cross home plate at 7:10 and Uncle Teddy and I will look forward to you joining us for the all the action on the Mighty 1090.
Scan