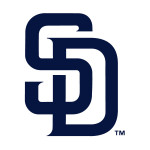 The Padres had the lead at one point, but couldn't hold it and fell to the Brewers tonight 4-3.
Ross was touched for two runs in the first inning before he found his rhythm.  Once he found it though, he was tough. He held the BrewCrew in check over the next four innings as the offense forged a comeback.
With two outs in the 3rd, Lopez making his MLB debut started to falter. Solarte reached on a single as did Kemp. Upton then hit a rocket into left field that would have likely scored two runs, but it hit the ground so hard that it caromed up into the stands for a ground rule double plating only Solarte. 2-1 MIL.
The next inning picked it right up again with Spangenberg leading the charge with a triple, and Hedges following with a walk.  Ross got jammed but blooped the ball into field for a single to score Spangenberg. Myers singled as well to score Hedges and the Friars had their first lead of the game 3-2.
It all came crashing down in the 6th for the Padres started by a single by Khris Davis. Ross retired the next batter, but a mistake on the inner half to Jean Segura was turned on and driven into the second deck  for a 2-run homer giving the Brewers a 4-3 lead that they would never relinquish.
Three Milwaukee relievers combined to hold the Friars scoreless for the rest of the game to take the series opener.
Matt Kemp reached the 100 RBI plateaus with his ribeye in the 3rd. It was the third time in his career that the had done it and the 14th time in Padres history.  Unfortunately he would leave the game later with soreness in his right hand.
Cashner will try to even series with the first pitch reaching home at 7:10.  Loo forward to having you join Uncle Teddy and me for the action on he Mighty 1090.
Scan