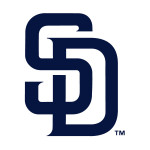 Good 'ol fashioned, close hard ball game tonight that finished with the Dodgers holding on to a 2-0 lead until the end to give them a 2-1 lead in four game weekend series.
Alex Wood was the story tonight, and how he perplexed the Pads with fastballs, curves, and change ups away most of the night to hold the Friars in check for seven innings.  The offense gathered only three hits against him and were able to advance a runner to second base only twice.  His lengthy effort allowed Mattingly to avoid extra exposure of his sketchy bullpen and get the ball to Jansen in the 9th.
The Pads appeared to be on the precipice of starting a rally in the 6th when Kemp reached on a single (his second of the day), but with Upton a the plate he was picked off.  The out call was challenged and upheld, and didn't help Upton's at bat either as he stood for two minutes before chasing the third strike.  It was a very quick turn around from a possible rally to two outs instead.  The base running has not been great for the Friars in recent games.
Ross for his part certainly wasn't bad.  He lasted six and allowed only one run.  He wasn't nearly as sharp with his fastball command as his last outing but worked out of jams with runners on base in four of his six innings.  The run crossed in the 4th when he surrendered back to back doubles to Ethier and Crawford.  Other than that he dodged the rest of the bullets making the big pitch when needed to keep the Fathers in the game.
Benoit allowed a run in the 8th for an L.A. insurance run, but it was not needed as Jansen retired the Pads easily in the 9th for his 29th save.
The Pads will try to even it up tomorrow with Cashner toeing the slab and firing the first pitch at 1:10.  Looking forward to having you join Ted Leitner and me for the action on the Mighty 1090.
Scan