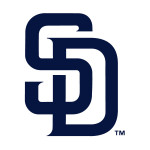 It was nip and tuck…until one throw blew it open in favor of the Dodgers as they defeated the Padres 5-1, and took the series 3 games to 1.
Cashner teetered in the first loading the bases on two walks and a hit batsman.  He limited the damage, though, allowing only one run to cross on a sac fly before ending the threat. He allowed at least one base runner in each of the first five innings except the third frame, but was able to hold the Dodgers in check.  In the sixth it caught up to him as he allowed double, single, single to plate another run. He lasted through the 6th with those two runs being his only responsibility.
The Pads offense was stymied for the second day in a row by a lefty starter. Wood shut them down for 7 innings yesterday, and today Anderson similarly had his way with the Friar offense. The Pads loaded the bases off him in the first but let him off the hook.  After that the only batter to solve his mystery was Gyorko with a solo homer in the 3rd to tie the game at that point.  It would end up being their only run of the day.
Through the 6th inning it was a tight contest with the Padres down by only one. The 7th is when disaster struck. Mateo allowed a couple of singles so Murphy called upon Vincent. He allowed an infield single to load the bases but with two outs he was only one pitch away from escaping the jam…and make the pitch he did!   A perfect cutter on the hands of Ethier induced a little dribbler up the first base line.  Vincent fielded it fine, and the Friars were just a 50′ throw away from running off the field down 2-1.  Easier said than done. Nick appeared to try to soft toss the ball over Ethier as he ran towards first, but he launched it too high and it sailed over the head of first baseman Myers as well.  The ball rolled into foul territory towards right field, and the by the time it was retrieved the bases had been emptied. Crusher….
It was 5-1 at that point and that back breaking play was just more than the Pads could fight back from.
After the great come back win in game one of the series the Pads were unable to parlay it into any momentum and the Dodgers walk out of town with a sweep of the final three.
The Rockies come into town for a four game set. Kennedy will fire the pill for the Friars at 1:10 for the labor day matinee.  Uncle Teddy and I will bring you all the action on the Mighty 1090, and we'll be excited to have you with us.
Scan