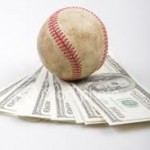 The Padres avoided arbitration with their remaining 5 eligible players today, announcing deals with Heath Bell, Ryan Ludwick, Mike Adams, Chase Headley, and Tim Stauffer.
Bell will reportedly receive $7.5M, Ludwick $6.775M, Adams $2.535, Headley $2.325, and Stauffer $1.075. Bell and Ludwick are eligible for free agency after the 2011 season, which could make them the center of trade rumors leading up to the July trading "deadline". Adams will have one more year of arbitration eligibility before free agency, while Headley and Staufffer were eligible for the first time.
The nicest surprise likely came for Headley who made it as a "Super 2" eligible player by squeaking into the top 17% of service time of players with more than 2 but less than 3 years of service by only 2 days. Those 2 days probably earned him at a minimum an extra $1.5M.
The other Padres arbitration eligible player was the recently acquired Jason Bartlett, who they signed for a 2 year $11.5M deal, with a vesting option for 2013.
Altogether the Padres committed $31.71M to their eligible players to keep them from submitting numbers on today's deadline to exchange figures.
Scan