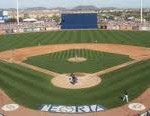 Great to be back in AZ watching baseball, and the Padres finalizing their last few roster decisions.
The Padres beat the Rangers last night in 10 innings.  Although it is always better to win than lose, the real questions are how did they play, who is looking good, and what questions remain to be answered, and are those answers from within or outside the organization.
First, a quick review of some of my initial impressions from my visit during the first week of spring.
I was impressed with:
Cory Luebke – The young left hander looked great, both in the bullpen and the games.  I actually found myself smiling just watching him pepper the glove with live fastballs on both sides of the plate, followed by a hard biting curve ball during one of his workouts.  Great down hill plane on all his pitches, and that curveball with teeth is new to his repertoire.  THAT was exciting to see out of young guy who made his MB debut just last season, and obviously came in to camp ready to impress.
Casey Kelly – One of the key pieces received by the Padres in the Adrian Gonzalez trade with the Red Sox.  I saw why the Pads wanted this athletic right handed pitcher.  No question he is a good all around athlete, and that translates on the mound in his physical command of his delivery, and confident demeanor on the bump.  He showed command of a nice array of pitches, with better than average action on all of them.  Not overpowering, but advanced in his composure and polish of his repertoire.  It would not surprise me at all to see him in the Pads rotation almost for sure before the end of the year (barring injury), and possibly within the first few months of the season if the need arises.
Matt Lollis – Big ol' donkey that throws hard, and has a clue where its going.  Showed the ability to put his hard FB to both sides of the plate.  Nice off speed pitches with breaking ball more effective than average change up.  Made a couple of mistakes trying to go to the outside corner with 2 strikes, but overall reason to believe there is enticing upside.
Rob Musgrave – Out of nowhere interesting guy of the early spring for me.  Knew nothing about him, but watched the lefty command his fastball, breaking ball, and change up all with confidence and effectiveness.  I will be keeping an eye on his year wherever he pitches.
Cedric Hunter – Did not impress last spring, and did not have the season last year that most were anticipating.  This year he seemed intent on making amends, and re-establishing himself as a top prospect.  I thought he had some great early at bats, and took some perfect routes while eating up real estate to get to a couple of well hit balls towards the gaps.  Looked like a guy on a mission early in the spring.
Logan Forsythe – Looked pretty smooth moving at second base.  Watching his early work in spring left me encouraged that a useful multi-postional player is in the works.
Will Venable – Working on his hitting mechanics, with defined purpose, and clear understanding of what the changes are supposed to do. Great to see a guy who is aware of what he wants to improve, and implementing appropriate adjustments.  Another guy who seems to be on a mission not to repeat the slow start he had the previous season.
Orlando Hudson – Great energy and enthusiasm – wherever he was on the field, that's where the fun was.  Loved his encouragement interaction with the young players working out with him on the infield.
Anthony Rizzo – Another one of the key returns from the Gonzo trade, I liked the unapologetic power stroke and moved pretty darn good for a big guy over at first.  I can understand if the Pads see him as a long term solution at the first base bag.
I was left wanting to keep a close eye on:
Matt Latos – Was shocked to see him showing emotion, and staring down the umpire in the first inning his first outing of SPRING!  Felt like I was put in a time machine that sent me back to watching Latos of 2009.  All the lessons of self control learned last year seemed to be completely forgotten.  His next outing showed me much of the same.  I couldn't help but think this is the classic symptom of a young guy trying to take on the responsibility of being the team's #1 and opening day starter, and feeling the need to be "The Man" starting with the very first pitch of spring.
Nick Hundley – Clearly this is a year where he is expected and needed to step up as the undisputed #1 everyday catcher.  Is he defensively ready to command of a staff, and offensively able to contribute consistently throughout the year.
Orlando Hudson's body – Some injury issues over past couple of seasons, how many games can Buddy expect out of his 33 year old body?
Ryan Ludwick – Seemed to put too much pressure on himself last year to be "The Man" in the middle of the line up when acquired from the Cardinals last year, and underproduced.  Curious to see if he still feels that pressure to now fill big power void left by Adrian's departure, or if he can control the natural urge to try to do too much.
Since those first impressions a lot of games have been played, decisions have made, and new questions have arisen.  Among those issues that appear to still need to be resolved include:
The starting rotation – Many are still asking, "Who is going to get the #5 spot?"  My question is "Who is the #1?"  I'm being only a little facetious, as clearly Latos earned that position based on last year's display of dominance for most of the season.  The fact is, however, that he has not pitched with any consistency or emotional maturity so far this spring that I've seen, and it begs the question is putting the label of "Staff Ace", and "Opening Day Starter" too much for him to handle at this point of his maturation process as a top line MLB starter?  Now Buddy just told us 10 minutes ago that Mat's shoulder is sore, and will miss his next spring start.  Additionally, Harang has not been consistent with his stuff (including last night where he allowed several hard out hit balls, too many on 2 strike counts, including several of the outs), and Stauffer and Richard both had physical set backs that appear to be resolved, but you still have to keep an eye on in the early going.  Hopefully Clayton has the shoulder issues behind him , and will be able to answer the bell doing what he did last year giving quality efforts every 5th day, and continuing his steady progression, and Stauff can do what he showed last year in brief stints as a starter, for a full season.  There's just a lot of uncertainty for this staff as a whole for my right now for me, and they are not being assuaged by this latest news about Latos' shoulder.
Back up catcher – Who will it be?  Does  he need to be a defensive or offensive player? How much will he be expected to play?  Is the answer an internal candidate, or external? Today Buddy said the number one priority for him is the defense and that Johnson, Quiroz, and Phillips are all showing well, with Johson and "Q" being the most experienced defensively.
Middle infield bench – Who will be the back up at SS for Bartlett?  Frandsen was the hopeful answer, but more and more I am getting the sense that there is concern about his range at SS, which was never great, but seems even more limited than anticipated.  The answer to this may have to come from outside the organization.
With only a few spring games remaining, and teams making their final moves during the next several days before breaking camp, it will interesting to watch what moves are made, which players are made available through releases, waiver wires, and trades, and what the Padres do to put together their strongest 25 for opening day.
Scan