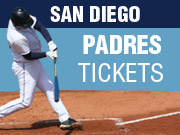 In 1995 Padres third baseman Ken Caminiti accomplished something at the plate that only two there MLB players, Eddie Murrray, and Jeff DaVanon have also done in the history of MLB.  What was it? 
Answer to today's question will be revealed with our next challenge.
Our last question: LHP Jason Lane was called up from AAA EL Paso today for the Padres. What was significant to Padres fans about the last MLB game he played in? Answer:   It was game 163 of the 2007 season that the Padres lost to the Rockies 9-8 in the 13th.
Congratulations there were 6 correct answer, and those correct respondents will be eligible for this month's random drawing.
All the correct answers to today's trivia challenge that are submitted here before the answer is given in the next day's question will become eligible to win their choice of either 2 tickets to a Padres game. The more Trivia Challenges you answer correctly, the more chances you have to win! Random drawing for this month's winner will be held July 1st, and winner will be announced on this website.
Thanks for playing along, and good luck!
Scan