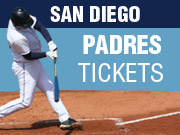 Who without question was the most successful first round draft pick ever selected and signed by the San Diego Padres franchise? 
Per some of your requests, we will try something new for submitting answers. Please submit your answer via email to [email protected] (you can click on the email address and it will take you directly to the email page).  There has been grumbling about answers being viewable by all to plagarize.  Let's see if this new format is more enticing for all to submit their answers.  Feedback on this new format is welcomed, and appreciated!
Answer to today's question will be revealed with our next challenge.
Our last question: In 1995 Padres third baseman Ken Caminiti accomplished something at the plate that only two there MLB players, Eddie Murrray, and Jeff DaVanon have also done in the history of MLB. What was it?  Answer:  In 1995 on Sept. 16th & 17th Ken Caminiti became one of only 3 players in MLB history to hit home runs from both sides of the plate in back to back games. 
Congratulations there were 6 correct answer, and those correct respondents will be eligible for this month's random drawing.
All the correct answers to today's trivia challenge that are submitted to the email address above before the answer is given in the next day's question will become eligible to win their choice of either 2 tickets to a Padres game. The more Trivia Challenges you answer correctly, the more chances you have to win! Random drawing for this month's winner will be held July 1st, and winner will be announced on this website.
Thanks for playing along, and good luck!
Scan