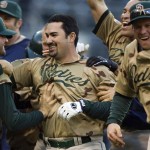 Padre fans have a lot of questions as their team gets ready for the 2010 season.  But by far the question asked the most…"Are the Padres really going to trade Adrian Gonzalez?"
I doubt if anyone knows for sure, not even the Padres,  whether he will be wearing a Padres uniform on opening day, let alone at the end of the 2011 season when his current contract ends, but there are certainly compelling reasons why he could remain a Padre his entire career, or be shipped off for prospects before the end of his contract.
Let's take a look at the factors that could sway the decision in this escalating tug of war.
First, some reasons why Adrian should, or could stay a Padre.
• He is a GREAT hitter. His 106 HR's and 318 RBI's lead the team since joining the Pads in 2007. Those numbers place him 5th in HR's and 10th in RBI's in all of MLB during his first 3 full seasons. Need we even mention that production has taken place while playing half his games in left hand hitter stingy Petco Park?
•He is an excellent defensive first baseman. His 2 Gold gloves tell some of the story, but it is hard to put a number on the errors he saves, and confidence he instills in his teammates on the infield.
•He is a home town hero. Being raised in Chula Vista is only part of it. His Mexican heritage, and the time he has spent on baseball diamonds there as a youth player, and more recently as a professional during winter ball and the WBC make him a huge marketing tool for the Padres to their Latin American fan base.
•He is a solid presence in the community. He and his wife, Betsy, are two of the nicest, and most sincere people you will ever meet in this game. Their community service efforts through their foundation are forthright, and significant. MLB could use a few more Gonzalez families in the league to help restore some trust with its fan base.
•Losing him would be a big disappointment to the Padre faithful, whose numbers have been dwindling already. After watching Jake Peavy unceremoniously shipped off to the SouthSide of Chicago, many Padre fans see Adrian as the team's last link to legitimacy. In their eyes, losing Gonzo would be considered the final yank down on the rope raising the white flag to the top of the flagpole, solidifying the team's place amongst the weakest sisters in the league.
Now, the reasons Adrian should, or could be traded:
• The Padres payroll neither now, nor in the foreseeable future, can support the salary he will soon command. Assuming Adrian continues to put up the numbers he has for the past 3 seasons, he will rightfully be regarded as one of the premier hitters in all of baseball, and will command a commensurate contract in guaranteed years and annual compensation. In my opinion, no team can justify putting over 25% of their team payroll into one player.
• The focus of the organization should be to win a Championship, not to be a showcase for one player. While we all enjoy watching a great player perform his craft, the focus has to be on winning games. Most baseball teams win championships because of their depth of quality, not the excellence of one player. The Pads could conceivably get 3 young players with immediate impact potential, along with a couple of other useful pieces in return for Adrian if they trade him now. Each day of the season that goes by, what he commands in return is reduced because of the loss of playing time under his current, extremely under market value contract, which expires after 2011.
• They have a potential replacement in line. Kyle Blanks may be far from proven at the major league level, but he did show flashes of exciting, raw, right handed power and an athleticism rarely seen in players of his size. He held his own in the outfield last year, but his long term future is at first base. Blanks needs to shore up some holes in his swing, and be a bit more disciplined at laying off the breaking ball down, which might come more quickly if he is playing first base not having to learn a new position. Best of all for a budget conscious team…he's cheap at least for the next 3 years.
• The longer this uncertainty drags out, the more distracting it may become for Adrian to stay motivated and focused. We saw the emotional toll it took on Jake Peavy last year, and sensed its affect on his performance and clubhouse demeanor. Trying to play at the highest level each day, when your team is rebuilding, and you are rumored to be dealt at any moment, is a terrible distraction. Putting Adrian, the rest of the team, and the fan base through that again has little upside.

The bottom line of the debate, for me, is this – if the goal of this organization is to eventually build up its payroll to top out at $70M-$80M, then they are probably better off moving him sooner rather than later. It would be hard to believe that he would have any greater value than between now and the July trade deadline. Move him while he has maximum value, and the Padres still have some perceived bargaining power of not having to move him. Each month that goes by potentially weakens both points of leverage. Unless Adrian is willing to take significant discount to play in San Diego, he already knows that his time here is ticking down, which makes it even more difficult to stay focused and produce at his maximum potential. It appears to me that moving him sometime between now and the trade deadline, when a significant upside return package is presented, will be the best thing for the growth of the organization, and Adrian.

In the meantime, let's enjoy every Gonzo at bat, every exciting aggressive defensive play at first base, and each public appearance or fund raiser that helps the community, for he is a rising superstar in our midst, and a vital key to the Padres future whether he stays or goes.

Scan