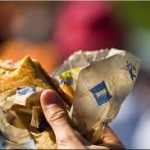 My quest for the best hot dog in the Cactus League continues.  Today's candidate Scottsdale Stadium, spring home of the Giants.
Most expensive entry level dog in the league so far at $5.25!  My expectations are high, but right away it's in trouble with a bad bun.  To small, and soggy in the middle but dried out on the outside and the ends.
Dog itself is plump, but just barely cooked all the way – definitely not hot.  Flavor is ok, but overshadowed by the other deficiencies.
The only notable positives here are A.) no wait, B.) friendly server, and C.) the condiments were set up next to each other conveniently for easy application.  Overall hot dog experience very average, nothing offensive, but very average.
SCORE: 5.5…wait, no, price brings it down to an even 5.
Scan