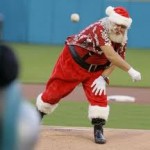 Thank you so much to each of you for joining me on CH4, HeyScan.com, Facebook, Twitter, and in person at various events throughout the year.
Your support and interaction help keep my passion for the game baseball strong, and the broadcasts fun. I appreciate all that you share with me.
I wish you a very Merry Christmas, and best wishes for a happy and healthy 2011!
Thanks and blessings,
Scan